We hope you have had a chance to check out the renovation progress and do some shopping at Red Bridge Shopping Center recently! Construction is beginning to calm down a bit and the dust is settling. However, there so much more to be done!  We greatly appreciate your continued patience during the reconstruction process. Dodging the orange cones and putting up with some extra dust in the air is never fun, but know it is much appreciated by LANE4 and all of our wonderful tenants.
As we finish the renovations to the main shopping center, one side at a time, we hope you notice the dramatic changes in lighting. The updated under-canopies will be very dramatic, but also extremely well-lit for evening shopping.  Up-lighting will show-off the beautiful, original 1959 "tongue and groove" boarding and large beams which make Red Bridge so architecturally beautiful and special.  We have also greatly increased the amount of light in the parking lots, making the center safer and more inviting at night … especially during our long, dark Kansas City winters!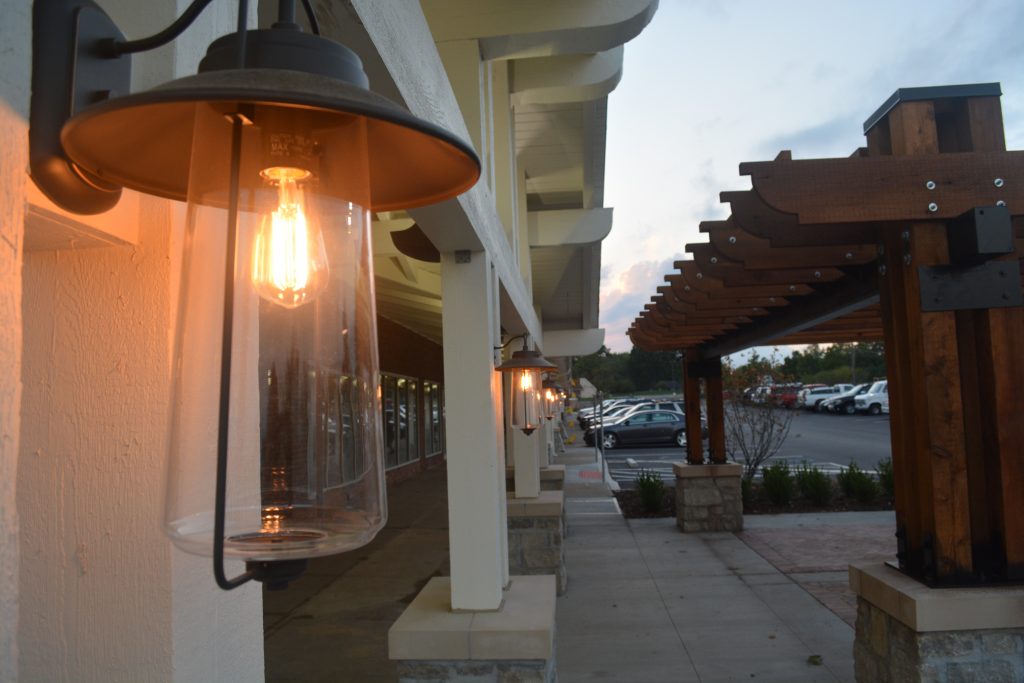 By now, much of the parking lot has been replaced. Originally, we planned to replace only certain sections of the parking lot. However, we were concerned this would have too much of a "patchwork" look and decided to instead replace almost the entire lot. This mid-stream change is one of the reasons the center will be better in the long run, but also one of the reasons it's taking a little longer than anticipated to finish our renovations.
You may have noticed the heavy landscaping islands we've installed in and around the main parking lots.  We feel it's important to break up the parking lots by adding the trees, shrubs and year-round greenery.  Although we think it looks great today, it will be spectacular five years from now as the plants grow and mature.
Hopefully you have also noticed the new "pocket parks" located on the corners of the center. These areas include authentic brick pavers and cedar pergolas, to add to the ambiance, pedestrian experience, and charm of the new Red Bridge Shopping Center. We hope you find these areas a nice place to sit, relax, and enjoy the center.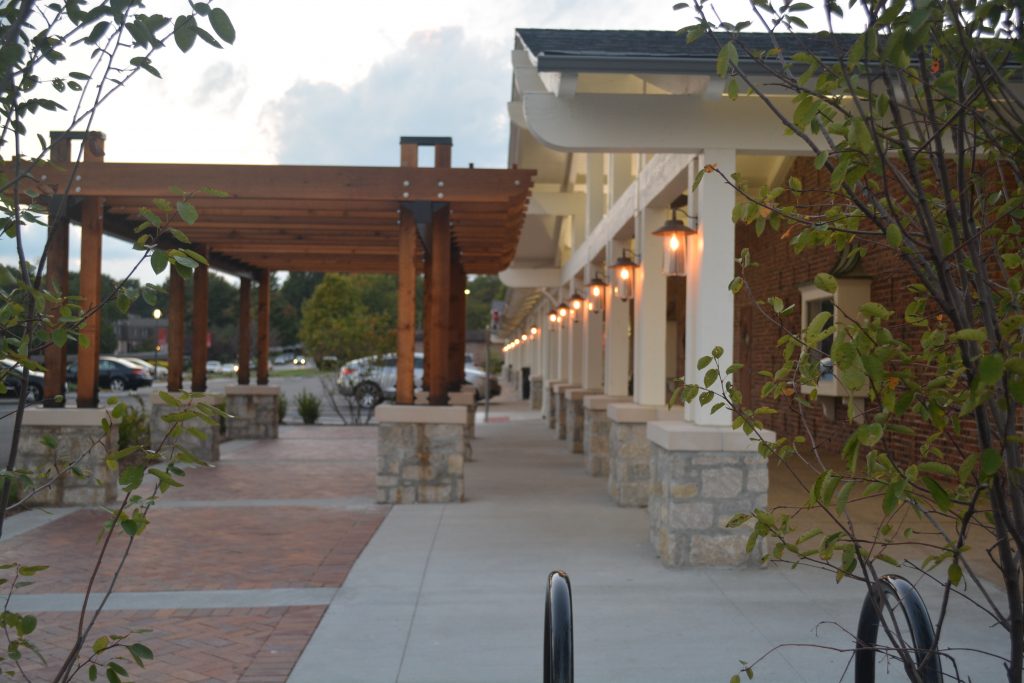 One of the things we felt was important was to help make Red Bridge stand taller. Not only so the center would be more visible from Holmes Road in particular, but also to give it even more character and personality.  Thus, the addition of two towers, that will be located at the southeast and northeast corners of the main center building.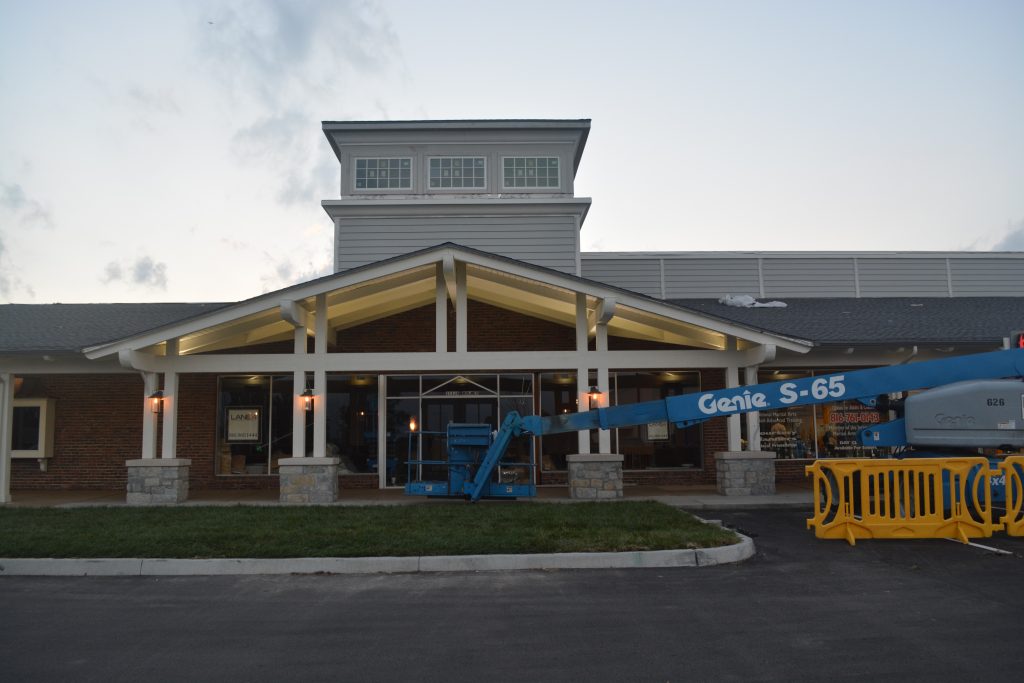 We continue to have lots of interest in the shopping center from potential new retailers and restaurants. We are seeking neighborhood-focused tenants that will serve the surrounding area. We look to locally known centers like Brookside Shops, Corinth Square and The Village for inspiration.  We will continue to be very selective to make sure that we are putting the very best restaurants and retailers in this center.
We are thrilled to be your new neighbors.  The opportunity to remodel and reinvent a Kansas City tradition like Red Bridge Shopping Center is very exciting!  Your patronage, comments and ideas are important to us. This is your community center and we rely on and appreciate your thoughts.  Whether it's a light that is burned out, a damaged or dead shrub, or you have an idea for a new tenant, please don't ever think twice about reaching out to us here.